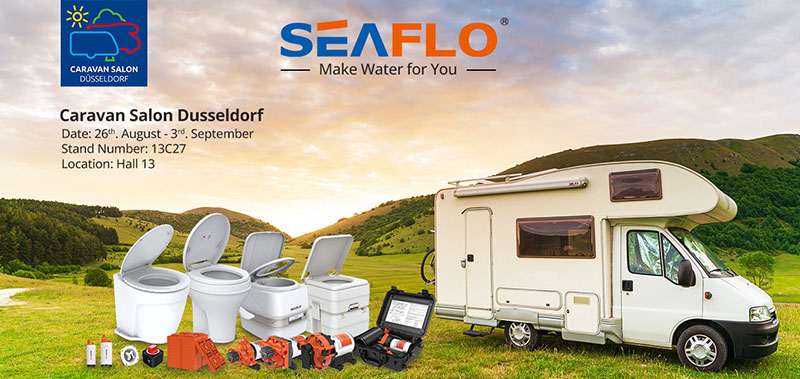 Exhibition time: August 26~September 3, 2023 Opening time: 09:00 - 18:00
Exhibition location:
Germany - Düsseldorf - ostfach 10 10 06, D-40001 Dusseldorf Stockum Church Street 61, D-40474, Dusseldorf, Germany- D-40001 - Messe Düsseldorf
Booth No.: 13C27
Location: Hall 13
Caravan Salon is one of the largest caravan and campervan exhibitions in Europe. It is hosted by Messe Düsseldorf and is held in Dusseldorf every year. Caravan Salon exhibits a wide range of products and services, including all types of RVs, campers, recreational vehicles, RV accessories, camping accessories, campsite facilities and more. In addition, the exhibition provides a networking platform that enables exhibitors and visitors to share best practices, explore latest trends, and establish business connections.
Seaflo group is an ISO9001 certified, professional marine and RV water system solution manufacturer. We have 2 production bases, 2 modern standard workshops of 50000 square meters, more than 200 employees. SEAFLO products and brand is deeply engaged in Marine and RV market for more than a decade. We offer professional and reliable service with the cost-effective products of Seaflo brand and private branding for our partners.
SEAFLO sincerely hopes to meet you at the exhibition!